General features of UAS web based university automation comprehensive
دستگاه سری ایگل Eagle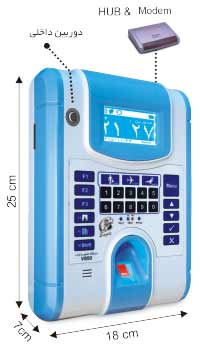 Eagle series
Design features:
Dimensions: 25*18*7cm
Weight (UPS included): 1700gr
Wide display screen with background light: (128*64 pixels)
Dark blue, light blue, white
Display screen:
Batteries status, number of offline records, connection status, power status, date and time display
Number of presented staffs and students (even in offline mode)
Wide display screen with background light: (128*64 pixels) (English, Farsi)
Camera:
Recording up to 362000 pictures in roll call field
Exporting files through mmc, network, and RS2323
Traffic control with no need for finger print identification system
I/O:
RS485, RS232 and printer output
Two input and three output ports to be used for connecting gate and traffic controller modules
Audio features:
Time announcement (coming and going)
Setting different alarms for specific time of day
Other technical features:
Professional 16 bit processor
GPRS for wireless communication with server
Up to 16Mb memory (extendible)
Designed for variety of weather conditions
High voltage shock and noise protected
Two working modes; offline & online
Recording up to 262 records (extendible up to 2 million records)
RS232, RS425 and printer port
Two input and three output ports for connecting auxiliaries such as gate and kiosk
Built in UPS (7hrs. charge, 4hrs. continuous work)
Compatible with contactless and standard smartcard
Hard disk for saving traffic, dates, and other data even when power is gone out
Displaying personal information of card holder at holding the card before scanner
Log display including date and time of power cut and disconnections
Data delete prohibition even after exporting data
Program setting through system menu and computer
Offline convection through external modem
Kimia Series
As new generation of eagle series, Kimai series are available in smaller size and modern design
Design features:
Dimension: 3 * 9 * 14.5cm
Weight: 200gr.
Wide display screen with background light and keypad
Technical features:
Almost the same as eagle series except for finger print sensor, built in camera and keypad.
Photo sensor:
the sensor surface is covered with light sensitive diodes. Diodes sense reflected light from finger's surface and converted it to electric current, which goes to a processor to be converted into different grey spectrum to form a whole print of finger.
Main advantages:
The sensor is completely scratch resistant and rigid.
Technical features of photo sensor:
taking into account advantages and disadvantages of photo sensors available in the market, Jahan Gostar Company has selected Suprema sensor for its call roll systems. This sensor (made in Korea) brings us following features:
Resolution: 500dpi
Number of scan for one record: 1
Scan speed: 800ms
Comparison: 800ms
Search speed: 970ms between 1000 records
Accuracy: 0.01% (failing to match a finger print)
Working temperature: 0-60C⁰
Working humidity: 10-80%
Unique features:
At each scan, the sensor produces two images, and through time choose the one with higher quality and delete the less quality image. Consequently the system modifies itself with changes in user's fingers specifications.